The Past is Present, The Future is Now
By D. Fiendfyre, student
History establishes the framework upon which we identify our present. We inherit biases, triumphs, stories of both glory and toil—and through education, we reinforce these notions. We are products of our surroundings—like stones along a riverbank. As the rushing creek of our daily interactions rushes past us, we slowly conform and shape ourselves to the nature of our experiences—generations of encounters creating the present landscape.
And just as the issues of the past shape our today, we have a responsibility to approach each issue with candor and sensitivity, seeking to dispel the notion that they statically remain in the past.
One telling reminder is the threat of antisemitism. Last week was the 82nd anniversary of Kristallnacht, the "Night of Broken Glass." On November 10, 1938, Nazis in Germany set fire to synagogues, schools, businesses, and Jewish homes—killing close to 100 Jewish people. In the aftermath of the event, some 30,000 Jewish men were arrested and sent to Nazi concentration camps. This event was the catalyst towards violent acts of hate against Jews, culminating in the deaths of over 6 million Jews and over 10 million total lives. This event is often seen as an enigma of time—an event where the crux of evil permeated through to the mainstream and resulted in a catastrophic loss of life and dehumanization of an entire people.
Yet, the concept of antisemitism does not remain in the past. Just two years ago, our beloved city was the site of the "deadliest assault on Jewish people in US history"—and our nation has seen an increase in antisemitism over the last few years. In 2019, over 950 of the over 1,500 religious hate crimes were antisemitic, or 63%, yet many people deny the severity of this problem.
Student journalist Jess Daninhirsch at the NASH Uproar writes,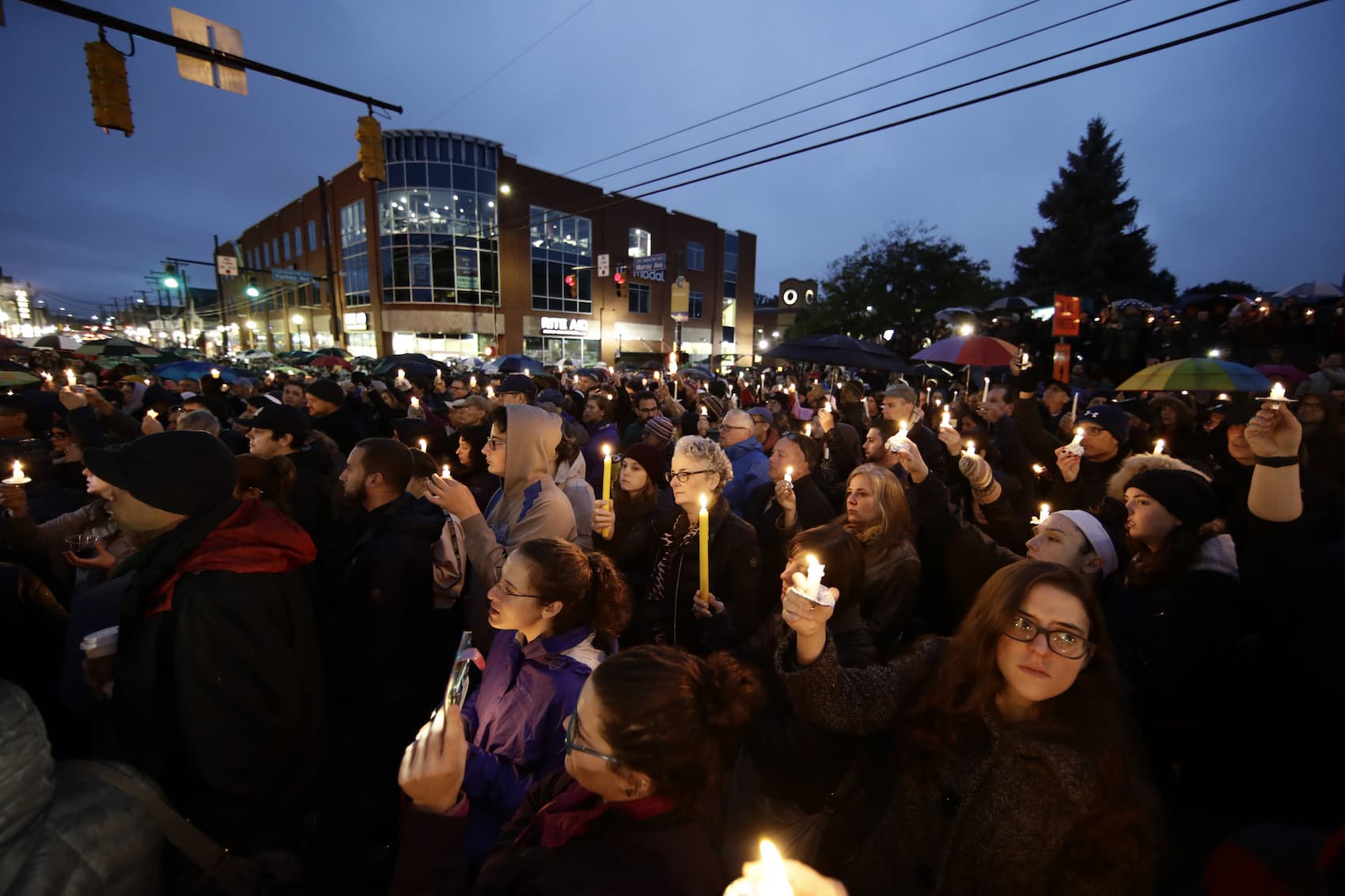 As a student at North Allegheny, I have seen my fair share of carved swastikas on desks; and, in fact, people defended the reasons for them being there just a few months ago.
One has to wonder, why do the obvious evils of history seem to repeat themselves? And especially, why do they happen in the United States, the land in which the phrase E Pluribus Unum—out of many, one—is woven into the fabric of the mythos of the American tradition?
I believe the answer lies partly in the fact that we often believe that deep-rooted problems hold surface solutions—that centuries of bloody baggage can be undone by the stroke of a pen. There is a willingness by too many to cling to the comfort of a status quo that benefits them instead of pursuing the establishment of a status quo that values all. When the problem doesn't go away, some ring the bell of defeat—"we did all that we could". That's the danger—complacency. And this complacency is sometimes so severe that facts fade into oblivion.
Holocaust denial serves as a worrisome emblem of this severe willful ignorance; there has been an uptick in Holocaust deniers who refuse reality and deny communities the chance to grieve and advocate against tragic repetition. These people are seeking to rewrite documented history, and the following that they amass assures that the threat of antisemitism continues.
Does anyone find this statement to be controversial?
Along this same vein, why are deniers of racism by-and-large still accepted across the United States and in our communities? There is a denial of documented history that remains a monumental threat to the battle against racism.
Let us remember: we are only a century and a half away from slavery, and anti-literacy laws that prohibited slaves from reading and writing. Upon the signing of the Emancipation Proclamation, racism did not end. There was serious struggle at hand for the next 100 years—institutionalized segregation, public beatings, stinging slurs casually whipped by schoolchildren fully knowing the harm their words hold. Upon the signing of the Civil Rights Act, do we really think racism vanished?
The most difficult aspect of racism is that its cunning nature allows it to shift—camouflaging at every turn, and stubborn as hell. Until people both in and out of power can together recognize it and act against it, we will fall prey to the same mistakes of our ancestors.
This is an urgent battle. We must consistently work towards the pursuit of this achievement in our everyday lives—in every small interaction. The work is challenging, uncomfortable, draining, and sometimes unclear—but it is necessary. And it is long overdue.
#IAmForChange because the past is present, and the future is now.
If every one of us can sit down and learn from the lived and emotional experiences of one another, pay genuine attention, and commit ourselves to working on innovating systemic solutions towards a shared vision, then there is hope for this generation's ability to leave its mark and inscribe in the pages of history a volume of a people with open hearts and open minds, yearning to be free of the stain of prejudice and hate.
---
For further reading, please visit the following links:
Kristallnacht, United States Holocaust Memorial Museum
Antisemitism Today – Table Talk: Family Conversations About Current Events | Anti-Defamation League
Federal Bureau of Investigations 2019 Hate Crime Statistics
Two Years Later: October 27th, NASH Uproar
---
###
Interested in being featured? Click here for more information, or email us at naforchange@gmail.com or DM us on Instagram or Facebook. If requested, we have many measures and safeguards in place to protect an author's identity and ensure the voice of the author may speak without fear.