Inspirations Through History: The Disability Rights Movement
By C.P. Reich, student
The American disability community is currently made up of about 40.7 million people; since the mid-nineteenth century, the disability community has sought to break out of limiting stereotypes that have, throughout history, defined their beings. 
Long considered tragedies, disabled people frequently underwent forced sterilization and commitments to asylums and mental institutions that abused and neglected them. This was seen as a permanent strategy to care for the disabled community, and they were kept hidden from the mainstream society.
Throughout the twentieth century, disability rights advocates held protests, sit-ins, and strikes to demand equal employment opportunities for the disabled throughout the 1940s and 1950s. On March 13, 1990, people marched from the White House to the U.S. Capitol; 60 of the protesters cast aside their mobility aids and crawled up the Capitol steps to demonstrate the urgency behind the need to pass the ADA, which was signed into law on July 26, 1990. Something we often do not think about is the fact that the handicap parking spaces we see everywhere today were a product of years of toil.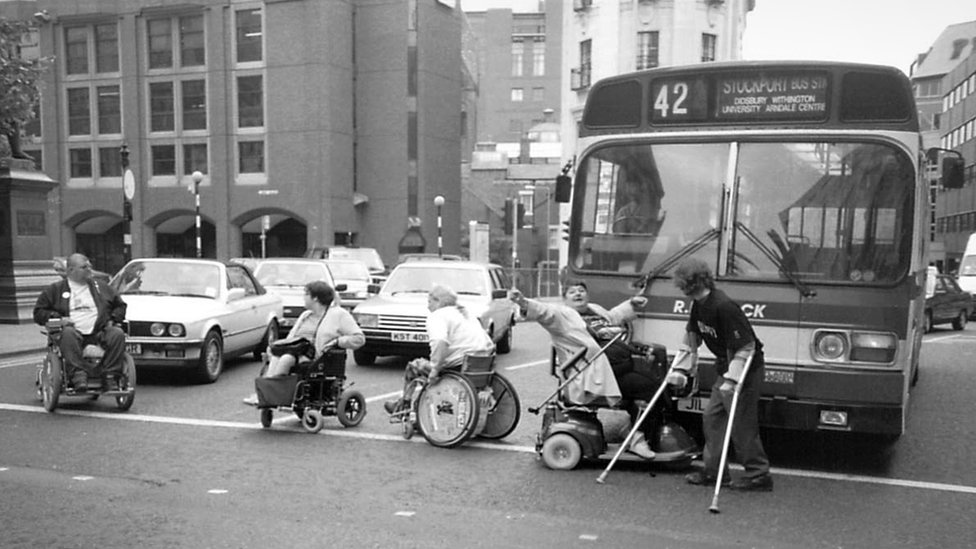 All of this information has come from my own research–and surprisingly, not my own classroom. This is American history, and the role models within the disability community deserve to be championed alongside their fellow Americans who have made similar gains in fighting injustice.
Every time I hear a classmate use the r-slur casually; every time I hear students joke about special-ed classrooms or use "autistic" as an insult, I am reminded of how much progress there is to be made.
Perhaps if students were taught about the struggles and triumphs of these heroes in our history, they would be less willing to perpetuate this degradation.
Perhaps if they were taught about how hard people fought against a society consigned to stigma, they would be reminded of the weight their words hold.
People with disabilities deserve representation–they deserve to find role models in history just as able-bodied students do, to be empowered by those who fought for their rights and accomplished great things. But representation also benefits those who are outside of the group being represented. Students should be encouraged to develop empathy and awareness for others whose experiences extend beyond their own; they should be made aware of the injustices inflicted on communities their peers belong to, and how those communities continue to pursue equality.
#IAmForChange because the journey within the disabled community towards equal rights is not over.
By educating every student about the struggles and triumphs of the past, we prepare the next generation of leaders to continue that journey and provide students with the skills and stories needed to lead our "changing world."
---
For further reading, please visit the following links:
The 1977 Disability Rights Protest That Broke Records and Changed Laws
The story of the Americans with Disabilities Act is all about bridges (Opinion)
When disabled people took to the streets to change the law
Disability Rights History Timeline
When the 'Capitol Crawl' Dramatized the Need for Americans with Disabilities Act
---
###
Interested in being featured? Click here for more information, or email us at naforchange@gmail.com or DM us on Instagram or Facebook. If requested, we have many measures and safeguards in place to protect an author's identity and ensure the voice of the author may speak without fear.